Character Magnifier
The Character Magnifier window is a very useful element of KbdEdit's GUI which is present in all views which involve editing of Unicode characters. Currently it appears on four views: High level, Dead char editor, Preview and Ligature editor; its standard position is in the upper right corner of the host view.
Whenever the mouse is moved over an area containing a Unicode character definition, the character magnifier shows a full-sized detailed view of the character under the mouse. The information area under the magnified character displays additional information: character's 4-digit Unicode value, and its descriptive name (if available).
The "area containing a Unicode character definition" covers several distinct UI elements on various views, which all update the magnifier view when moved over by a mouse:
Clipboard support
The text displayed in the magnifier can be copied to the clipboard via the right-click popup menu: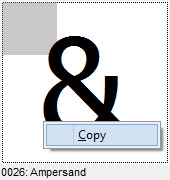 When the magnifier has keyboard focus, the "Copy" command is also available via other standard methods, ie the "Edit" menu, main toolbar, and the Ctrl+C keyboard shortcut.